Log in to Portal.
Click on the 'Website Management' tab, located under the General Applications category on the left-hand side.
Click the blue 'Edit Website' button located in the center of the page.
Click anywhere within the Hours Module and then click edit.
Click on the pencil to edit specific hours.
You have the option to add time slots to each day if your office has a lunch break. You also have the option to add custom text for days that may be by appointment only or that may need more explanation.
If your office is closed that day, just click on closed.
Edit your hours.
Click done at the bottom and your changes will display in the editor.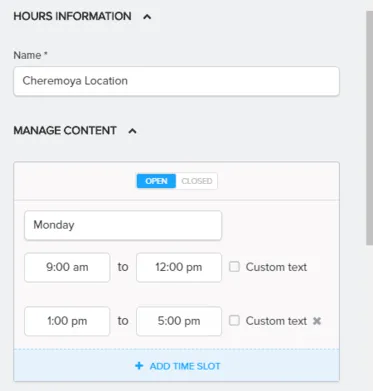 Note: This will only update the hours for your modules. If you have your hours are listed as text elsewhere on your website, you will need to change that manually.
Managing multiple offices or sets of office hours
To manage multiple offices, click on the Add Office Hours Button and add in office hours for another location.
If you have a location that may have different seasonal hours, it may be useful to add these hours into the module and turn them off. When that time or year comes, just switch the office hours you would like to display with the switch.